Pinecrest Rest Haven
Where Mr. and Mrs. P no longer know they're married to each other.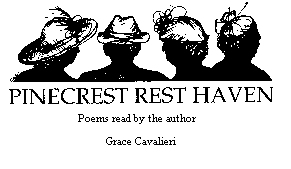 ---
On Friday afternoon Mr. P is walking down Corridor-Three, giving everyonehe sees a one-dollar bill so they won't forget him when he dies. Differentpeople achieve immortality in different ways; and Mr. P, a business man,always thinks ahead.
Coco is downstairs doing what the yoga teacher said: rest like a bow, walklike the wind, stand like a pine, but to be honest it hurts her hernia whenshe goes from the wind to the pine.
Muriel was certain this time she was pregnant, and there she is in the dispensaryagain complaining that they don't understand. Dizziness. Nausea. What elsecould it be!
And where is Mrs. P? There she is far down the hall in her green chenillebathrobe with slippers that match. She waits at the beginning of the endof the Floor, watching the old man come unsteadily toward her. She'll slipher hand in his, lead him to their bench.
(Hello, How Are You). They'll sit in the slender sun under the moon-shapedwindow in the bright white alcove. Unless it's already tomorrow, they mightgo down for tea. Fridays are peaceful at Pinecrest. When he says he missesBing Crosby, she'll say "I know, I know". That's how new memories begin.
---

Pinecrest Rest Haven audiotape is available for $11.50 (includesshipping and handling). Send check or money order to:
The Bunny and the Crocodile Press
1821 Glade Court
Annapolis, MD 21403-1945
---