Collective Voices Member Bios
Featured Poet Jim Reese
Click here for collective voices radio edit.mp3
Click here for collective voices web edit.mp3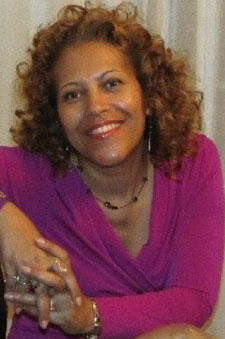 Sistah Joy Founder of Collective Voices, the Washington, DC-based ensemble of poets, is known for her poems of social-consciousness. She has performed her poetry with her groups and as a solo artists throughout the U.S. and in London, England. Sistah Joy is also co-founder of the poetry groups, Sounds of Empowerment; Poets and Artists for Obama, and the Poetry & Jazz performance ensemble, Lyrical Rhythmz. Sistah Joy is the author of 3 books: Lord I'm Dancin' As Fast As I Can, This Garden Called Life, and From Pain to Empowerment The Fabric of My Being. She is currently working on her fourth book, Midnight Rainbows, which she hopes to release in 2017. In June of 2002, Sistah Joy received the Poet Laureate's Special Award in recognition for her contributions and those of her group, Collective Voices, to the city of Washington, DC and to its poetry community. Host and Co-producer of the award-winning cable television program "Sojourn with Words", Sistah Joy also serves as President of the Poetry Ministry and Poet Laureate of Ebenezer A.M.E. Church in Fort Washington, MD. She also serves as Poet-in-Residence at the Prince George's County-based, Annie's Art Gallery, where she hosts a monthly free family-friendly Poetry Open Mic Night from 6-9 PM on 3rd Thursdays. She served as poetry editor for ACE-Dialogue literary magazine throughout its 5 year run. Sistah Joy is available for performances, arts program coordinating, consulting and book-signings. Sample writings and additional information about Sistah Joy and her work as a poet and literary activist are on line at http://authorsden.com/poetsistahjoy, on Facebook or on her archival website www.sistahjoy.com. Contact Sistah Joy at P. O. Box 44353, Washington, DC 20026 or via email at Poetsistahjoy@aol.com.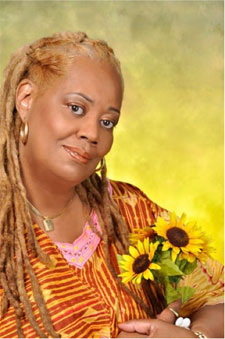 Ladi Di Sylvia Dianne Beverly native of SE Washington, D.C. and alumni of Anacostia H.S. and The University of District of Columbia. She is an nternationally acclaimed poet, presenting poetry In Brixton, London, England, at the Lewisham Theater. A collection of her work is housed at George Washington University's Gelman Library. She is a member of A Splendid Wake, Gelman Library, George Washington University.
Also, she has been featured at Smithsonian's Museum of History, African Arts Museum, Hirshorn Museum and other Smithsonians. Ladi Di, as she is affectionately called, is a founding member of the poetry ensemble "Collective Voices" and has presented at many schools, libraries, churches, radio stations and television stations. Also, she is a founding member of the Anointed PENS (Poets Empowered to Nurture Souls) Poetry Ministry, of Ebenezer AME Church, an alum of Poets in Progress with Poet Laureate of District of Columbia Dolores Kendrick, she is Facilitator of Poetry Club at Harmony Hall Regional Center, Poetry Facilitator for Concrete Rose Youth Modeling Group and a member of Marian P. Hymes Drama Production and Ministry. Ladi Di is Founder/director of Girls and Boys with Hearts youth poetry group. She is author of three books (Forever In Your Eyes, Cooking Up South and Poetry from Our Hearts). Ladi Di is also called "Love Poet", and loves to teach and share. The late Dr Maya Angelou is her hero. She is the proud Matriarch of her family. Ladi Di is available for presentation at your next celebration. syladydi@comcast.net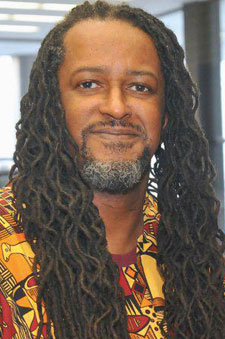 Brenardo is essentially the ingredient that makes Collective Voices new in comparison to the group's beginning. The first male to ever grace this ensemble, his addition brings not only a masculine essence but his additional talents of singing, acting, choreography and a keen focus on the link between politics and social construct. Born as Andre' Brenardo Taylor, on the 25th of May, in the year 1955 he has been writing poems and songs for two thirds of his life. Listeners have called him preacher, prophet, historian, revolutionary, troubadour. Four decades of writing provide abundant testimony. Brenardo's journey as a songwriter led him to a cafZ? in 1996 where he encountered 'Spoken Word', and the poet in him began to flourish. Since then he has performed in venues alongside Tonya Marie Matthews, (Ja Hipsta) Reggie (Love Jones) Gibson, Gayle Danley, Saul Williams, and a host of other renown poets, such as Sonya Sanchez & Amiri Baraka. Over the years Brenardo's stellar performances as a guest poet and MC with Collective Voices eventually led to his inclusion as a member. Other affiliations with group members such as The Anointed P.E.N.S. most likely helped to garner this most natural fit. Among other crowning achievements for Brenardo he counts opening for activist Dick Gregory @ the G.A.O.'s 'Blacks in Government', Heritage and Horizons program, being one of the longest active members of 'Poets in Progress' a group under the leadership of D.C. Poet Laureate Dolores Kendrick, and also being a co-founder of Poets And Artists For Obama. Ventures into the community, have seen Brenardo actively involved in presentations and workshops for children & adults in the area school systems, and as a regular ambassador to Jamaica for the Read Across Jamaica Foundation . He can be contacted for inquiry of his availability online Brenardo@hotmail.com , or as 'Brenardo Taylor' on Facebook.
---