LIFE UPON THE WICKED STAGE: A MEMOIR
Grace Cavalieri
Scarith / New Academia Publishing ($24)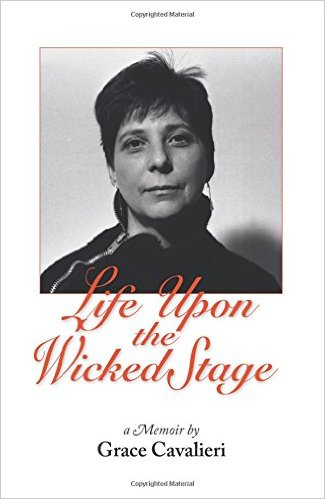 by Daniela Gioseff
Rain Taxi Online Edition Winter 2015/2016 | © Rain Taxi, Inc. 2015/2016
In the prelude to her new memoir, Grace Cavalieri says "I love reviewing other people's books. I love interviewing others on the radio about their work. I love transforming words into poetry. Yet this personal writing seems hard. For some reason when Ken said this book had to be written, it became a favor to him. Since his death . . . ." Cavalieri's late husband Kenneth Flynn, a retired Captain of the U.S. Navy and a noted sculptor of large metal works, is often mentioned in this memoir: the couple knew each other since Cavalieri was in high school, and they raised four daughters together over the span of their lives.
Early in her career, Cavalieri served as Assistant Director of Daytime Children's Programming for PBS, and was involved with the production of the long-lived show Sesame Street. She once produced a skit with the beloved character Big Bird at the Metropolitan Museum of Art, among other adventures while at PBS. The many anecdotes in her memoir make for interesting reading, often full of humorous happenings.
An articulate and graceful writer of nearly thirty books and twenty-six plays, Cavalieri has also interviewed nearly every contemporary American poet of note on her Library of Congress radio show, The Poet and the Poem. She's interviewed every Poet Laureate of the country, as well as reviewed hundreds of poetry books in her column in the Washington Independent Review of Books. Her memoir, therefore, chronicles a career in literary arts and media by one of America's most knowledgeable and involved literary figures. Cavalieri has made a significant contribution to disseminating American letters to the public, and this book is the story of her life in literary art. It contains amusing tales of her encounters with poets as well as theatrical personalities that have peopled her life.
Several chapters tell of her own plays, which have been produced in Baltimore, North and South Carolina, San Francisco, Colorado, New York, and at many other off-Broadway theatres of the country. She explains her play Pinecrest Rest Haven, concerning an old folks' home where "Mr. and Mrs. P were married and shared the same memories but did not remember each other; and so, fell in love and hate, every day, again and again. That sort of ironic wit permeates the memoir.
The memoir takes its title from a lyric in a comic song by Jerome Kern in the musical Show Boat, which ends: "If some gentleman would talk with reason / I would cancel all next season. / Life upon the wicked stage / Ain't nothin' for a girl!" The playwright has certainly had her successes with her twenty-six works for the stage, and some surprisingly fateful tribulations caused by feckless fate—as, for example, the New York opening of her play Anna Nicole: Blond Glory, based on the sensational and tragic life of Anna Nicole Smith, which failed to complete its run because of Hurricane Sandy. Or the time a terrorist bomber caused a huge traffic snarl in Washington, D.C. the night her play Quilting the Sun, about the life of African American quilt artist Harriet Powers, opened at The Smithsonian.
Much of the life of the poet and playwright was inspired by her husband's belief in her and his encouragement of her art. Ken figures greatly in this memoir written after his passing, and it's much because of his presence in her memory that this book of her adventurous life in art was written. No doubt her beloved husband would be proud of the memoir he inspired.
---